RETURN: Native American Women Reclaim Foodways for Health & Spirit
Documentary Short | Karen Cantor
RETURN: NATIVE AMERICAN WOMEN RECLAIM FOODWAYS FOR HEALTH & SPIRIT is about empowering people to overcome their current circumstances through eating as their ancestors did — nutritiously and locally. RETURN explores the food-sovereignty movement occurring across the country through the stories of women championing the return to traditional food sources. 
27 minutes
Release: March 19, 2019
Expiration: March 18, 2023
Distributor: APT
NOLA: RNRF 000 001
Karen Cantor has been at the helm of three acclaimed documentary films over the last 15 years: The Danish Solution (2003) about the rescue of the Danish Jews in 1943; Last Rights: Facing End-of-Life Choices (2009) follows four families as they recount grappling with the final days of beloved family members; and Invitation to the Muse (2011) looks at artists' inner journeys.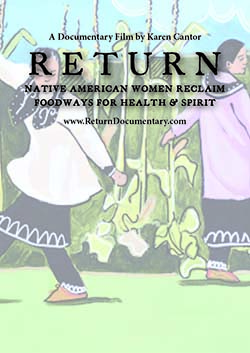 There are so many ways to watch! Find the method that works best for you, and we'll steer you in the right direction. You will be redirected to the Shop Vision Maker catalog website and/or other media distributors' websites.