Documentary | Karen Lynn Weinberg
Keep Talking follows four Alaska Native women fighting to save Kodiak Alutiiq, a critically endangered language with only 41 fluent Elders remaining. At language immersion camp, young Sadie (13) is inspired. Over the course of the film, Sadie evolves from painful shyness into a powerful young woman with a strong connection to her culture.
57 minutes
Release: July 2, 2018
Expiration: July 2, 2022
Distributor: PBS Plus
After years as an editor and producer, Keep Talking (Working Title) is Karen's long form directorial debut. Her lead editing credits include the feature documentaries One Night Stand (nationwide theatrical release, 2013), Spilled Water, episodes of MysteryQuest and Clash of the Gods (the History Channel), and C-Rock. Other credits include work on Hard Earned (Kartemquin Films/Al Jazeera America), Certainty (Boston Film Festival 'Best Editing' award, theatrical release 2012), Frozen River (Sundance Winner, Oscar Nominee) and Racing Dreams (Tribeca Winner, PBS POV 2012).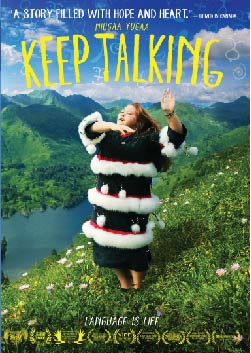 There are so many ways to watch! Find the method that works best for you, and we'll steer you in the right direction. You will be redirected to the Shop Vision Maker catalog website and/or other media distributors' websites.