Four Native American veterans reflect on their experiences in the military during the divisive Vietnam War and how their communities helped them carry their warrior legacy proudly. From the Marine Corps to the Navy to the US Army, veterans Valerie Barber, Art Owen, Sandy White Hawk, Vince Beyl, and civilian eyapaha (announcer) Jerry Dearly recall their memories of one of the most controversial wars in United States history. Even as they struggled with their relationship to the United States government from genocidal policies and government oppression; the Dakota, Lakota, and Ojibwe warriors still felt compelled to honor their duty to their people as Akichita | Ogichidaag | Warriors, as protectors of the people. A lifetime later, these soldiers meet us in the studio as they begin to tell their stories.
57 minutes
Release: May 24, 2019
Expiration: May 23, 2023
Distributor: PBS Plus
NOLA: PEPR 000000
Leya Hale is from the Sisseton Wahpeton Dakota and Diné Nations. She makes her home in Saint Paul, Minnesota with her companion and three children. She works as a Producer for Twin Cities PBS. She is best known for her directorial debut, Reclaiming Sacred Tobacco (2016), winner of the 2017 Upper Midwest Emmy Award for Best Topical Documentary. Her most recent documentary is The People's Protectors (2019), a Vision Maker Media grant production. She is proud to be one of four 2017 Sundance Film Institute Knight Fellows and part of the 2018 Big Sky Film Institute Native Initiative Fellowship cohort. Leya continues to work on a variety of local content documentaries in an effort to create social change within Minnesota communities.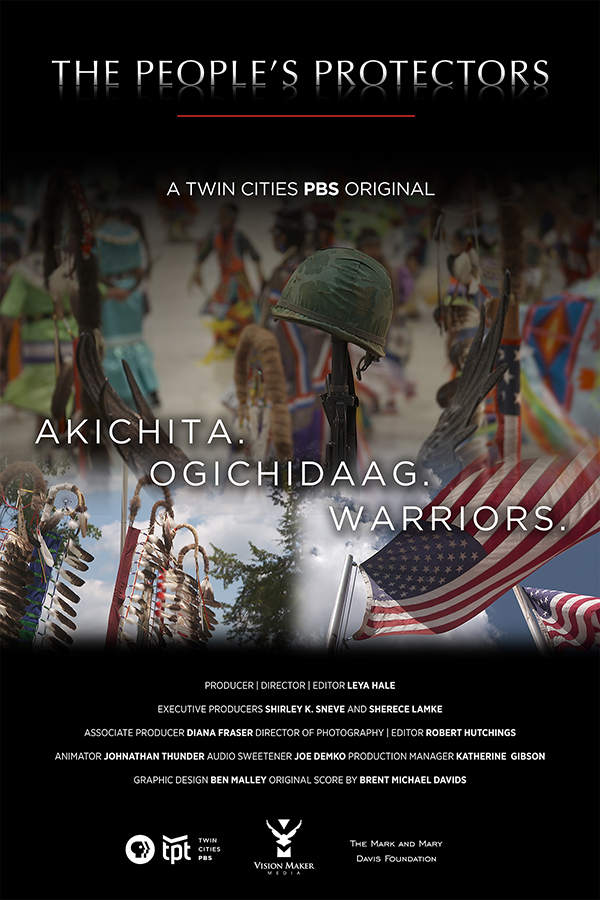 There are so many ways to watch! Find the method that works best for you, and we'll steer you in the right direction. You will be redirected to the Shop Vision Maker catalog website and/or other media distributors' websites.