Documentary | Christina D. King & Elizabeth Castle
Warrior Women is the story of Madonna Thunder Hawk, one such AIM leader who shaped a kindred group of activists' children – including her daughter Marcy – into the "We Will Remember" Survival School as a Native alternative to government-run education. Together, Madonna and Marcy fought for Native rights in an environment that made them more comrades than mother-daughter. Today, with Marcy now a mother herself, both are still at the forefront of Native issues, fighting against the environmental devastation of the Dakota Access Pipeline and for Indigenous cultural values.
64 minutes
Release: February 25, 2019
Expiration: February 24, 2023
Distributor: NETA
NOLA: WWOM 0000 H1
Christina D. King is a Peabody Award Nominated producer, director, and writer whose work spans documentary, film, and television with a focus on human rights issues, civic engagement through storytelling, and democratizing filmmaking opportunities. King produced the narrative feature film We The Animals at Sundance 2018, awarded the NEXT Innovator Award and nominated for five Independent Spirit Awards. King's other producing credits include This May Be The Last Time (Sundance 2014), which explores the origins of Native
Muscogee worship songs in Oklahoma, as well as the POV documentary Up Heartbreak Hill. Her work has been supported by Firelight Films, Sundance Documentary Fund, and the National Geographic All Roads Program. King is an enrolled member of the Seminole Tribe of Oklahoma based in un-ceded Lenape land in Brooklyn, New York.
Dr. Elizabeth "Beth" Castle works at the intersection of media, scholarship, and activism as a Shawnee-descended anti-racist educator committed to liberating and sharing unknown histories of resistance. She started the Warrior Women Project (WWP) to preserve the oral histories of Indigenous activists and disrupt the dominant historical narrative through her book Women were the Backbone, Men were the Jawbone: Native Women's Activism in the Red Power Movement. While completing her Ph.D. at Cambridge University, she worked at the White House for President Clinton's Initiative on Race. She co-directed the Peabody Award Nominated, Warrior Women (2018), and continues the collective work of the WWP in decolonizing curricula, activist archiving, and community media work.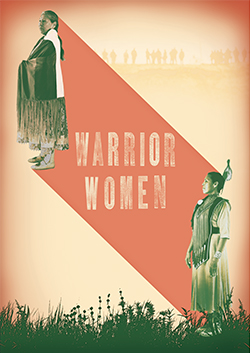 There are so many ways to watch! Find the method that works best for you, and we'll steer you in the right direction. You will be redirected to the Shop Vision Maker catalog website and/or other media distributors' websites.